Heh. Our members are still attempting to hide from the camera on this page!

As for demographic, so far we are all college aged females with a love of the odd. (Alright so we're a little goth-punk!) From as far back as most of us can recall, we have been fascinated with ghosts and the paranormal, we also gathered together at Halloween every year to walk around our friend's hollow, held seances in her living room, dropped candle wax into the carpet rug, and enjoyed our time together. The coincidences of finding out we all watch A Haunting, UFO Hunters, and The History Channel as well as reading every book on mythology we can get our hands on only helps spur our friendship forward to this day. From our late middle-school to early high school years we deemed ourselves sort of into the goth scene, about as much as you can be back in the hills! Eventually this all lead us to discovering Wicca. Some of us lingered there others passed by it for a bit. But eventually we all decided that as far as religion goes this one fit us the best. Some, like our founder, have practiced it alone ever since, others have occasionally stopped to drop the metaphorical pebble into the pond. But it is a commonality that we all share; a love of nature and its beauty, the drifting of our celestial bodies, that kindess should be exhibited to all, and that magick does indeed exist in this world.
Powered by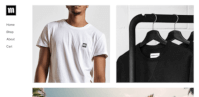 Create your own unique website with customizable templates.